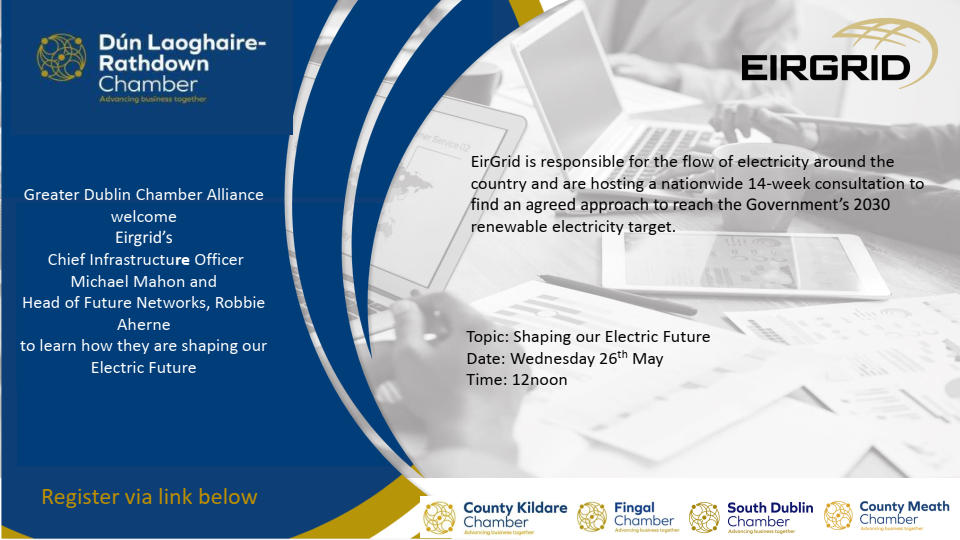 Wednesday 26th May @12pm
Register
In the battle against climate change, Ireland must move from reliance on fossil fuels to cleaner energy. EirGrid is responsible for the flow of electricity around the country and we are hosting a nationwide 14-week consultation to find an agreed approach to reach the Government's 2030 renewable electricity target – of at least 70% of Ireland's electricity coming from renewable sources by 2030.
Join Chief Infrastructure Officer Michael Mahon and Head of Future Networks, Robbie Aherne to learn more:
Date: Wednesday 26th May
Time: 12.00 noon
There are 4 approaches which Eirgrid will outline during the meeting:
Approach 1: Generation-Led – Plan for electricity generation at the most suitable locations
Approach 2: Developer-Led – Continue to develop the grid on a project-by-project basis in any location
Approach 3: Technology-Led – Change the technology used for the grid infrastructure
Approach 4: Demand-Led: The location of large energy users is decided by government policy
Ahead of the online meeting you can read/download Eirgrid's Consultation report here.