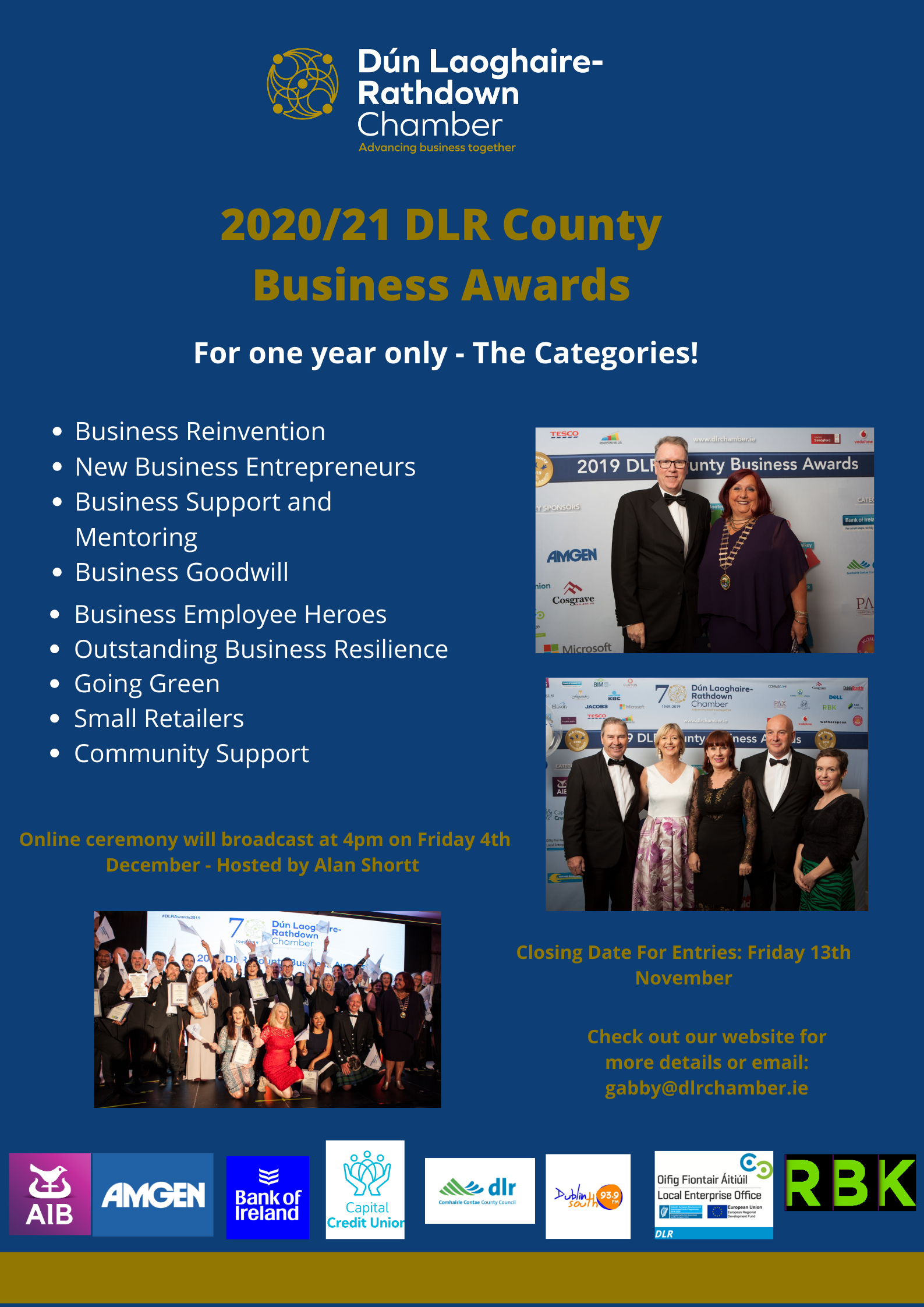 This year has been a year like no other. And while we cannot go ahead with our usual annual County Business Awards and , it's still business as usual with DLR Chamber, supporting and promoting our members as the biggest business organisation in Dún Laoghaire-Rathdown.
So this year, for one year only – we want to recognise businesses in DLR who have survived and will thrive into 2021 and beyond! We do believe that we should back resilience – your resilience!
And so hence our Awards! Please enter your own business, or enter a Company or business-person in DLR who you believe deserves an Award.
Local businesses are the backbone of our local economy in the Dun Laoghaire – Rathdown County.
As part of our COVID-19 recovery strategy, President DLR Chamber Brian Kirwan already launched the I Love to Buy Local awareness campaign to highlight the importance of supporting businesses in your area. And that will be increasingly key in the run-up to Christmas this year.
While we have many key international businesses in DLR, many businesses in the county are micro and small enterprises who are supporting local families, creating jobs and growing our local economy. Shopping local and supporting local business, helps to ensure local businesses survive and thrive once again.
For one year only – Our Categories for the 2020 DLR County Business Awards are:
Business Reinvention – using creativity and resilience to reinvent your business during Covid 19 – tell us how!
New Business Entrepreneurs – the gap in the market – taking the courage and innovation to spot and implement a new business during Covid 19
Business Support and Mentoring – Businesses demonstrating best use of LEO, DLR CoCo or Government supports during Covid 19
Business Goodwill – how businesses have made a real difference in the community this year – tell us how?
Business Employee Heroes – Employees going above and beyond for others – tell us what they did!
Outstanding Business Resilience – this organisation will be picked as demonstrating outstanding resilience by the judges out of all entries received!
Going Green : Implementing and driving a true green and sustainable spirit in DLR this year!
Small Retailers: Did you pivot your business to survive and thrive – tell us!
Community Support: Do you know someone who supported those in need? Did you?
Closing date for entries is Friday 13th November 2020.
Just email your entry to office@dlrchamber.ie with the below details included:
Award Title!
Name
Business Name
Email
Tel/Mobile:
Nominating Business/Person
90 word description
DLR Chamber – Advancing business together – Supported by:
Local Enterprise Office – DLR Leo
Closing Date:  Friday 13th November 2020
Judging:  This year – for one year only – judging will be decided by The Executive and Board of DLR Chamber.
The Awards:  We will broadcast a special online Awards Ceremony at 4pm on Friday 4th December. Hosted by Alan Shortt.