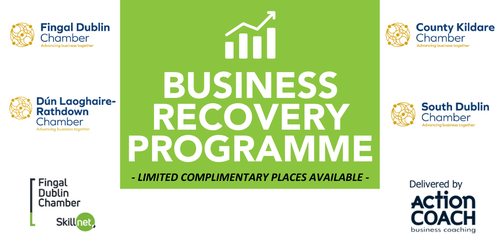 'The Business Recovery Programme'
Date: Thursday Jun 18, 2020
Time: 10:00 AM – 12:30 PM IST
Location: Webinar Series
Fess/Admission: Available free of charge to members of the Greater Dublin Chamber Alliance.
Description:
A weekly webinar series commencing on Thursday, the 18th of June for 8 weeks.
Delivered by ActionCoach, the cost of the programme will be covered by Fingal Dublin Chamber and Fingal Dublin Chamber Skillnet, making it free of charge for members of the Greater Dublin Chamber Alliance which includes DLR Chamber Members.
Week 1 – Re-Set Your Mindset for Business Recovery
The objective of the Mindset Module is to challenge the Mindset of the owner/manager, the team and the entire business into full COVID Recovery – Using Proven ActionCOACH mindset tools, including Identity Iceberg, Formula for Success and the Point of Power.
Week 2 – Re-Start Your Business Post Covid – The New Reality
The objective of the re-start module is to determine the new reality and how to deal with it with your team to re-engage, re-invent and get productivity back up as quickly as possible with correct protocols.
Week 3 – Re-View Your Strategic Plans for the Rest of the Year and Beyond.
The objective of the Strategic Planning Module is to set a clear vision for the business for the rest of the year and beyond. Where is the business going and how will it get there and what Values and Culture does the business need to get there? What needs to change in the coming months on the back of the crisis?
Week 4 – Re-Manage Your Time
The objective of the time-management module is to teach you how to use your time most effectively and also to introduce time management concepts to your business.
Week 5 – Re-Run Your Numbers – What has Changed?
Strategic Financial Planning with Covid-19, Calculate Break Even & Profit Break Even, Government Grants overview, Cashflow Forecasting methodologies.
Week 6 – Re-Grow through Our 5 Ways to Grow Your Business
The objective of the this module is for participants to learn ActionCOACH's Five Ways Formula to Increase Sales and Profits and how to test and measure all Sales and Marketing activity.
Week 7 – Re-Market Your Business in the New Environment
The Objective of the Marketing Module is to use the most effective tools available to maximise the return on investment from Marketing activity and Initiatives. The module aims to turn Marketing from a cost to a real Investment.
Week 8 – Re-Set Your Goals and Plans for the Next 180 Days
The objective of the Planning Module is to start to set plans and goals for the rest of the year. These will then be broken down into a 180 day plan and then further into Weekly and Daily planning.
Register here (under the "not a member" section)
Contact: [email protected]
https://www.dlrchamber.ie/wp-content/uploads/2020/06/fingal.skillnet.png
250
500
DLR Chamber
https://www.dlrchamber.ie/wp-content/uploads/2020/06/Chamber-band-logo-300x122.jpg
DLR Chamber
2020-06-08 10:15:23
2020-06-08 10:20:35
Business Recovery Programme