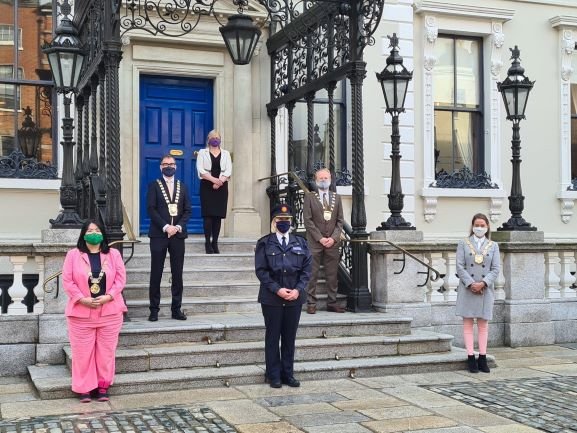 The elected leaders of the four Dublin Local Authorities, the Health Service Executive and An Garda Síochána today issued a joint appeal to citizens to redouble their efforts to slow the spread of COVID-19 and work together to get Dublin down to Level 1 in the Government's National Framework for Living with COVID.
An Open Letter to the citizens of Dublin has been signed by the Lord Mayor of Dublin, Hazel Chu; The Cathaoirleach of Dún Laoghaire Rathdown, Cllr Una Power; The Mayor of Fingal, Cllr David Healy and The Mayor of South Dublin, Cllr Ed O'Brien along with the Director of Public Health for HSE East, Dr Deirdre Mulholland and An Garda Síochána's Assistant Commissioner for Roads, Policing & Community, Paula Hilman.
The four local authorities, the HSE and the Gardaí are all members of the Eastern Regional Steering Group (ERSG) which has been co-ordinating support from the other agencies to the HSE since the COVID-19 pandemic began in March.
The Open Letter calls on Dubliners to take personal responsibility for their actions and work together to reduce case numbers, to decrease the rate of infection and to lower the numbers being admitted to hospital. Dubliners are urged to follow HSE Public Health advice and guidance in the ongoing battle against a dangerous enemy which is causing so much damage to people's health, the Dublin economy and the way Dubliners live.
The Open Letter was formally signed today at the Mansion House, Dublin, and will be conveyed to Dubliners via the websites and social media channel of the four local authorities. The four local authorities are also running a radio and digital audio campaign aimed at the changing the behaviour of 15-34 year-olds in Dublin towards the COVID-19 virus.
Today's signing was hosted by the Lord Mayor of Dublin, Hazel Chu, who said: "Aside from the obvious cost on us all as people, the last six months have been incredibly difficult for the economic life of Dublin. We all have family members, friends, and neighbours who have lost their jobs or businesses and are struggling to get by. Please think about what you can do to help tackle this virus so we can get back the Dublin we all know and love."
Cllr Una Power, Cathaoirleach, Dún Laoghaire Rathdown County Council, said:
"I'm asking young people in Dublin to redouble their efforts to reduce social contacts to help stop the spread of this virus. Do the easy things right – wear a mask, wash your hands properly, maintain social distance and reduce your social contacts as much as possible. It's been hard, I know, and especially for young people working on the front lines and in precarious work. Unfortunately, the virus is spreading again, and we need to count on each other to do the right thing."
Full Press Release Here