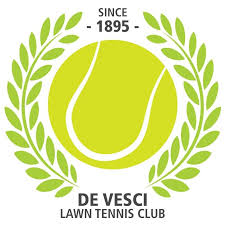 "When this is all over, enjoy the outdoors with a game of Tennis!" 
Join De Vesci Tennis Club!
It goes without saying that these are strange times. The majority of us are spending most of the time at the moment in our homes.
We are all imagining the joy of spending more time in the fresh air.
Well, when this is all over why not try tennis. In the heart of Monkstown in a secluded and beautiful environment is De Vesci Tennis Club. It is undoubtedly a hidden jewel.
It is one of the oldest tennis clubs in the country. De Vesci was established in 1895 and while our 125 year anniversary celebrations have to be delayed we hope to get back on court shortly.
We have facilities for everyone from beginners to more experienced players.
And while the club itself may be old we have the most modern courts in the country. Our artificial clay courts allow play all year round and are very easy on the joints.
Tennis is an unbelievable form of exercise. Playing tennis allows you to burn calories, build muscles, improve reflexes and benefit cardiovascular health. It enables your system to release more of the endorphins to put you in that happy place!!
Good for the Body and the Mind!!!
In De Vesci we have a full time fully qualified coach. He can be consulted for group or individual coaching for both young and not so young.
Our annual subscription fee is a very reasonable €240 for an adult member and this can be paid in one amount or by 4 monthly payments of €60. We have various offers for families, juniors and students.
We can now offer a corporate membership for Chamber members for a very attractive €800. This membership would cover full membership for up to 4 adults from the same company.
Download :DVLTC corporate application form 2020
For more information please contact us on email infodvltc@gmail.com or call Bryan on 01 2806286
De Vesci Tennis Club
Sloperton,
Monkstown,
County Dublin