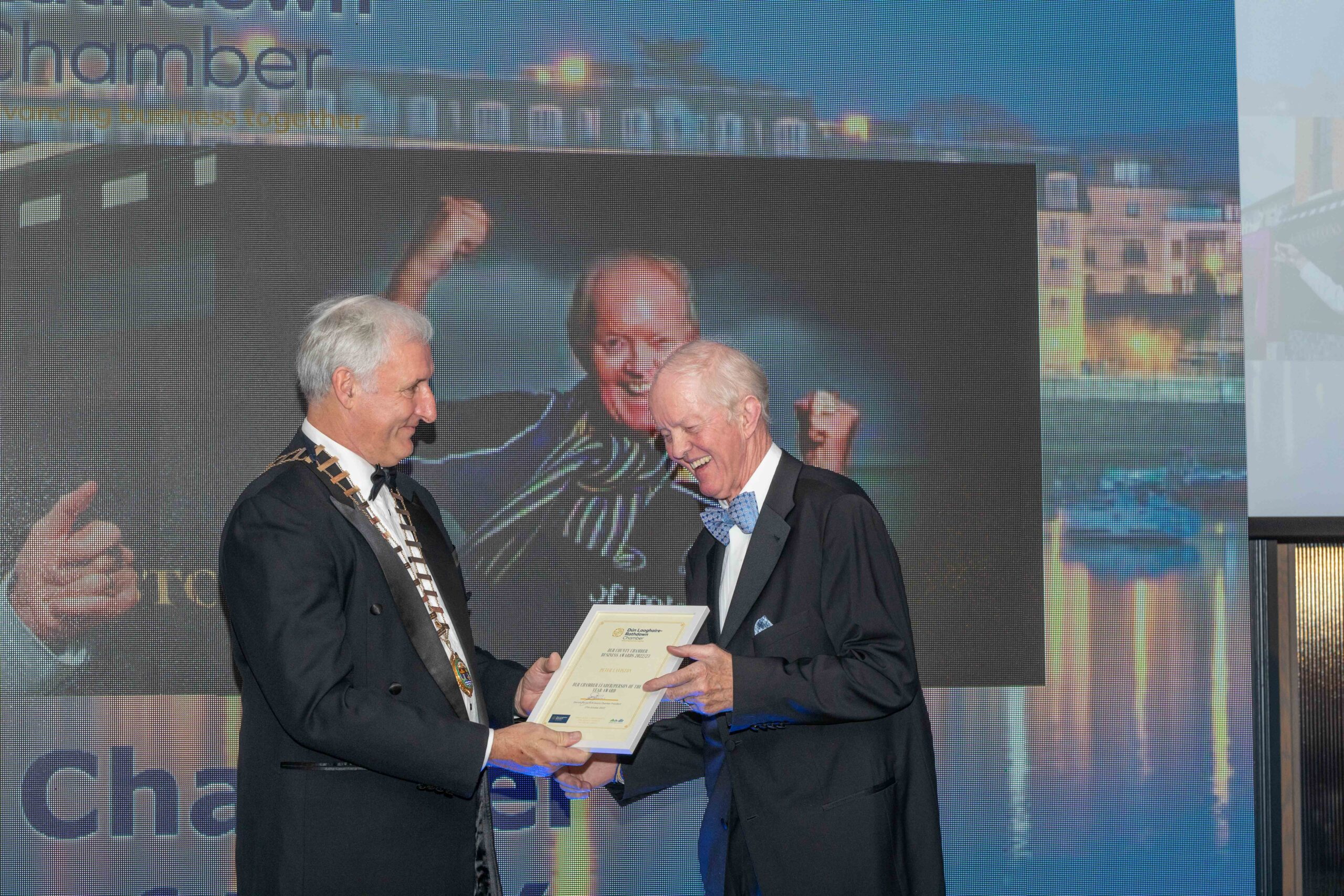 DLR Chamber announce Award Winners for DLR Chamber County Business Awards 2022 as Peter Caviston is announced as DLR Chamber Business Leader of the Year 2022
#dlrawards22
27th October 2022  Dún Laoghaire-Rathdown Chamber is delighted to announce the results of their 5th Dún Laoghaire-Rathdown Chamber County Business Awards .
The Award winners were announced at a Gala Awards Dinner at the Talbot Hotel Stillorgan,  Thursday 27th October 2022  , hosted by MC Alan Shortt, with DLR Cathaoirleach Cllr.Mary Hanafin, and Minister for Tourism, Arts, Gaeltacht, Sports & Media, Catherine Martin TD as special guests, together with DLR County Council CEO, Frank Curran.  Over 220 people from all over Dun Laoghaire Rathdown attended the black-tie event.
Dún Laoghaire-Rathdown County Council is the main Sponsor and supporter of the DLR County Business Awards.
Dermot Ferris , President DLR Chamber, added "Dún Laoghaire-Rathdown is a vibrant progressive county predicting huge growth in employment in the years ahead.  DLR Chamber, as the voice of business in DLR, and a voluntary business organisation, is proud to continue to organise and promote these Awards in our County and for that we thank all our Sponsors and Corporate members as well as the myriad of businesses – large and small, who entered.  It is also great to be back " In the Room" again celebrating Business success and indeed Business recovery in tough times."
---
There were 13 Awards announced – including the prestigious DLR Chamber Business Leader of the County Award – which this year has gone to Peter Caviston of Cavistons Food Emporium and Restaurant, Glasthule, a now 4th generation family business, started in 1947.  
Green Business Award – 2 categories
Over 50 employees
Winner:  AIB
Highly commended: Clayton Hotel Leopardstown
Under 50 employees
Winner: Bike Outdoor Pursuits
Highly commended: Irish Village Markets
Sponsored by Dún Laoghaire-Rathdown County Council Green Business
Sustainable Development Goals ( CSR)
Winner: Airfield Dundrum
Highly commended: AIB
Sponsored by AMGEN
Age Friendly Business Recognition Award
Winner: Nutgrove Shopping Centre
Highly commended: Dundrum Town Centre
Sponsored by Dún Laoghaire-Rathdown County Council
Outstanding Business Resilience
Winner: Talbot Hotel Stillorgan
Highly commended: Emma Slowe Entertainment
Sponsored by RBK Accountants
New Business Entrepreneurs
Winner: The Great Care Co-Op
Highly commended: Solar Smart
Sponsored by Dún Laoghaire-Rathdown County Council Local Enterprise Office
Small Business Awards       
Winner: Trimbles Shop
Highly commended: Ballance Hairdressers
Sponsored by Nutgrove Shopping Centre
Professional Services
Winner: RBK Accountants  
Highly commended: MBSL Accountants
Sponsored by AIB
Diversity & Inclusion Impact Award
Winner: Ski Club of Ireland
Highly commended:  Bowsy
Sponsored by EDIFY_EDU European Commission
Innovative Use of Digital
Winner:  Bowsy
Highly commended: Gastro Life
Sponsored by Bank of Ireland
Health & Wellness in the Workplace Award
Winner: St.John of God Hospital
Highly commended: Radisson Blu
Sponsored by WIBA
Hospitality –
Winner: Casper & Giumbini's
Highly commended:  Veda Indian Restaurant
Sponsored by Graphedia.com
Tourist Attraction/Activity of The Year Award
Winner: Glencullen Adventure Park The GAP
Highly commended: Ski Club of Ireland
Sponsored by TaxAssist Accountants
DLR Chamber Business Leader of the Year 2022
Winner: Peter Caviston, Cavistons, Glasthule, Co.Dublin
---
About DLR Chamber
DLR Chamber is celebrating 73 years young in 2022 and indeed is one of the oldest Chambers in Ireland.  The Chamber is affiliated to Chambers Ireland and represents the full county area.   DLR Chamber is a very strong diverse and gender-balanced Board, with Gabby Mallon, as DLR Chamber CEO.
The 2022/23 President of DLR Chamber is Dermot Ferris.