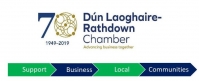 As many of Ireland's businesses prepare to open their doors again after almost 3 months in lockdown, DLR Chamber asks that they remember local suppliers and service providers during this challenging time. While we all adjust to a new normal, the Chamber suggests that local businesses should support each other wherever possible. Whether tendering for a new project, revamping your company's website or simply restocking the shelves, they ask that you think local first and support business in your area.
Aileen Eglington, President DLR Chamber, comments "Dún Laoghaire-Rathdown is a vibrant progressive county predicting a steady re-growth in employment in the weeks and months ahead. DLR Chamber, as the largest business organisation and the voice of business in DLR, and we want to lead the way in encouraging business to give business and receive business around DLR – our county. We have over 16,000 businesses in the county – many of whom are professional services, as well as retail and tourism, and we must keep them alive"
She added, "It is vital that we continue to look after one another now more than ever, as we attempt to reopen the economy and get businesses back on their feet after such a shocking setback. The best thing we can do now is buy local and this applies to businesses as much as it does the individual. It is all of our responsibility to champion local Irish companies at this most uncertain time. "
About DLR Chamber
DLR Chamber celebrated 70 years young in 2019 and indeed is one of the oldest Chambers in Ireland. The Chamber is affiliated to Chambers Ireland and represents the full county area. DLR Chamber is a very strong diverse and gender-balanced Board, with Gabby Mallon, as DLR Chamber CEO. DLR Chamber is supported by 30 Corporate Members, as well as a membership of over 500 members – all businesses throughout DLR.
The 2019/2020 President of DLR Chamber is Aileen Eglington.
Issued by Aileen Eglington, President, Dún Laoghaire-Rathdown Chamber.
E: aileen.eglington@aeconsult.ie T:01 2948080 M: 087 2505007
E: gabby@dlrchamber.ie T: 01 2845066 M: 086 7968805