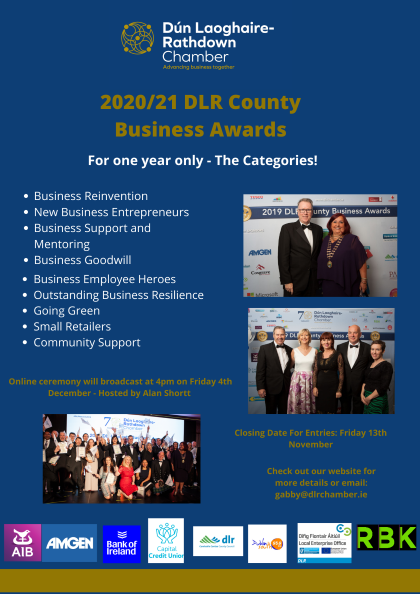 [av_textblock size=" font_color=" color=" av-medium-font-size=" av-small-font-size=" av-mini-font-size=" av_uid='av-onvyy8′ custom_class=" admin_preview_bg="]

For one year only DLR County Chamber Business Awards 2020/21 went online.
This year has been a year like no other. And while we could not go ahead with our usual annual County Business Awards, it was still business as usual with DLR Chamber, supporting and promoting our members as the biggest business organisation in Dún Laoghaire-Rathdown.
So this year, for one year only – we recognised businesses in DLR who have survived and will thrive into 2021 and beyond!
We do believe that we should back resilience – your resilience!
Local businesses are the backbone of our local economy in the Dun Laoghaire – Rathdown County.
While we have many key international businesses in DLR, many businesses in the county are micro and small enterprises who are supporting local families, creating jobs and growing our local economy. Shopping local and supporting local business, helps to ensure local businesses survive and thrive once again.
Photography by Paul Murphy
​Web: www.davidmurphy.ie
Video was Filmed & Produced by
Neil Elsworthy & Aileen Eglington
Congratulations once again to all of our winners, and a big thank you to everyone who helped make this years virtual awards a success.
We already have the venue booked for 2021 and are looking forward to the day when we can all celebrate these awards in person. Be sure to keep an eye on our website on social media for more information on how to enter next year's awards.

[/av_textblock]
[av_gallery ids='11070,11067,11068,11069,11071,11072,11073,11074,11075,11076,11077,11078,11079,11080,11081′ style='big_thumb' preview_size='portfolio' crop_big_preview_thumbnail='avia-gallery-big-crop-thumb' thumb_size='portfolio' columns='5′ imagelink='lightbox' lazyload='avia_lazyload' av_uid='av-kifx3y8r' custom_class=" admin_preview_bg='rgb(255, 255, 255)']