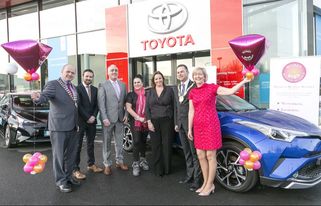 [av_textblock size=" font_color=" color=" av-desktop-hide=" av-medium-hide=" av-small-hide=" av-mini-hide=" av-medium-font-size=" av-small-font-size=" av-mini-font-size=" av_uid='av-38etii']
Dun Laoghaire Rathdown Chamber is celebrating International Women's Day this Friday 6th March 2020. 'Link for Change' is the theme for this year's event. The venue is at the Royal Marine Hotel in Dun Laoghaire from 12pm – 3pm and the tickets are €50 per person.
There will be a diverse range of speakers including Paula King, Colm O'Brien, Gaia Ferreira, and Mary Mc Caughey. Paula King is a psychologist and leadership coach, Colm O'Brien is one of Ireland's leading business people with his current successful business – Carambola. Gaia Ferreira is a motivational speaker and coach and Mary McCaughey is Head of Communication at the European Foundation for the Improvement of Living and Working Conditions.
These speakers will inspire and guide you on your own road to success with their own insights and startup stories.
The Dun Laoghaire Rathdown Chamber is 70 years in the community. This event is one of many available to the public. Gabby Mallon CEO of Dun Laoghaire Rathdown Chamber believes "we should all be ambassadors for each other and work towards advancing in business together."
For more information on this event or other inquiries about Dun Laoghaire Rathdown Chamber contact gabby@dlrchamber.ie or telephone 01 2845066.
[/av_textblock]
[av_image src='https://dlrchamber.ie/wp-content/uploads/2020/02/xxx.lfc_.logo_-80×80.jpg' attachment='6597′ attachment_size='thumbnail' align='center' styling=" hover=" link=" target=" caption=" font_size=" appearance=" overlay_opacity='0.4′ overlay_color='#000000′ overlay_text_color='#ffffff' copyright=" animation='no-animation' av_uid='av-k7evkaf5′ custom_class=" admin_preview_bg="][/av_image]
[av_image src='https://dlrchamber.ie/wp-content/uploads/2020/02/wiba-march-6-international-womens-day-211×300.png' attachment='6548′ attachment_size='medium' align='center' styling=" hover='av-hover-grow av-hide-overflow' link=" target=" caption=" font_size=" appearance=" overlay_opacity='0.4′ overlay_color='#000000′ overlay_text_color='#ffffff' copyright=" animation='no-animation' av_uid='av-k7evjar2′ custom_class=" admin_preview_bg="][/av_image]