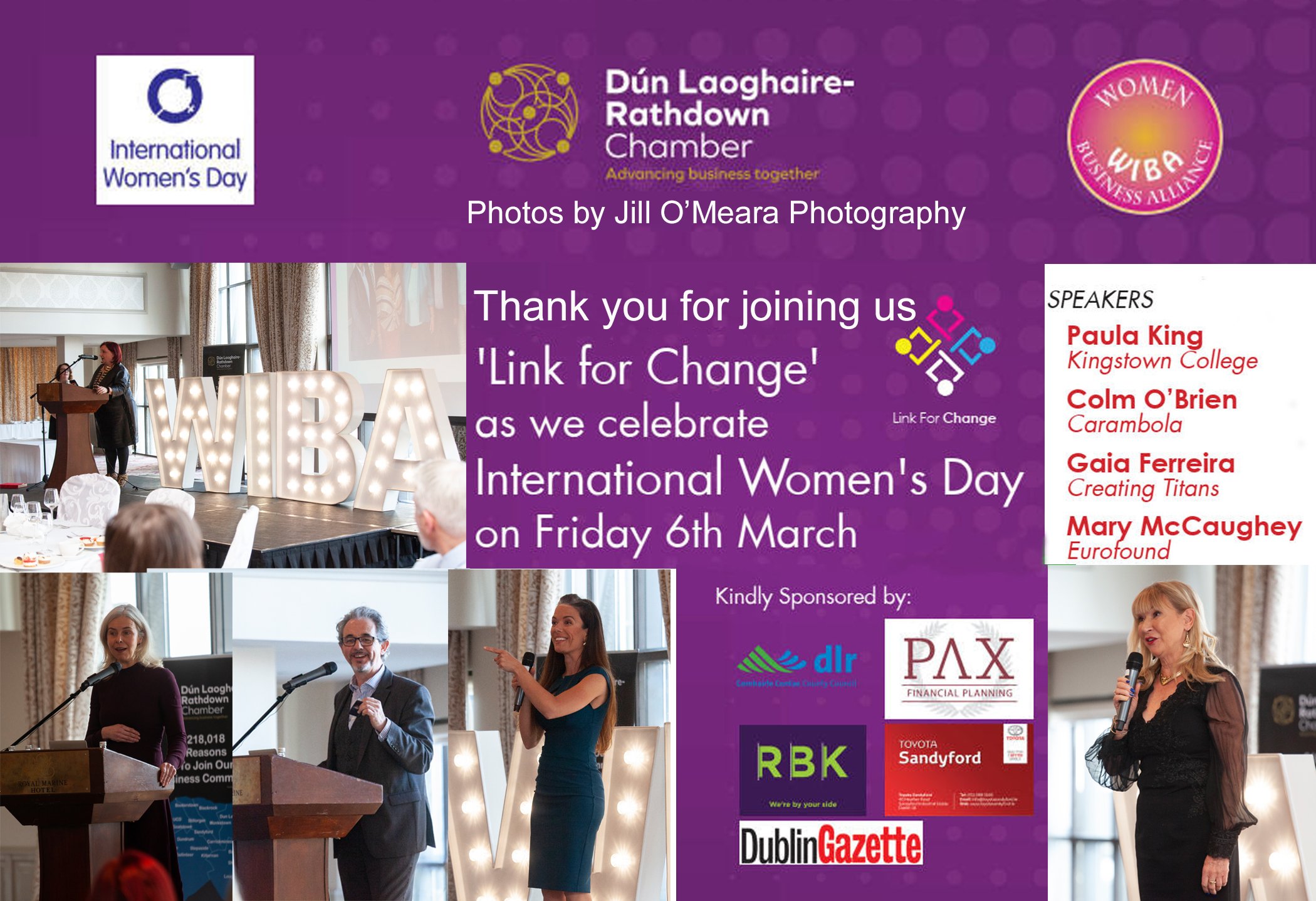 [av_textblock size=" font_color=" color=" av-medium-font-size=" av-small-font-size=" av-mini-font-size=" av_uid='av-k7rt6apt' custom_class=" admin_preview_bg="]
International Women's Day Lunch, WIBA, at the Royal Marine Hotel, Dun Laoghaire.
[/av_textblock]
[av_video src='https://dlrchamber.ie.78-153-200-49.preview.graphediahosting.com/wp-content/uploads/2020/03/WIBA-Dun-Laoghaire-Rathdown-Chamber-1.mp4′ mobile_image=" attachment=" attachment_size=" format='16-9′ width='16' height='9′ conditional_play=" av_uid='av-k7rt46ka' custom_class="]
[av_textblock size=" font_color=" color=" av-medium-font-size=" av-small-font-size=" av-mini-font-size=" av_uid='av-k7rvtfrh' custom_class=" admin_preview_bg="]
Link for Change, with WIBA on International Women's day.
A fantastic International Women's Day, with the WIBA and Dun Laoghaire Rathdown County Chamber Lunch at the Royal Marine Hotel. The men of the Parish had no idea what they were missing in not being in attendance. Aileen Eglington spoke passionately. Gabby Mallon Organised an amazing event ably assisted by the Chamber's own Rachael, with technical contribution from Chamber Member, Robert Moloney.
Paula King of Kingstown college told a story of being recession-proof, or at least, surviving, living and learning.
Mary McCaughey of Eurofund, spoke about equality. Statistics presented with humour and fascination!
Colm O'Brien spoke of his recent activities and his book, but his Bewleys' history was fascinating.
Gaia Ferreira, enthralled:
Dedicate: arriving with the intention to achieve, turning up, focussed, not distracted, being present.
Create: …. a network of strangers? Networking and working those contacts actively to keep in tuch and genuinely be of benefit to them without always trying to sell them something!
Collaborate: You never know who you have just met and who they could introduce you to! Or you them! You are working a circle of influence, how can you be of service?
Mastermind group: Ask for help, you like to give help, be of help and ask for it. In the words of Jim Breen of the cycle against suicide: "It is ok not to feel ok and it is absolutely ok to ask for help."
We didn't get to "launch" the new website, but we did flash it up there for all to see.
Thinking it was just for women would have been a mistake, a room of nearly 200 people, all expert, all wanting to be there, new and old businesses, certainly got value for money. Amazing speakers,  you would have paid fifty quid to hear any of them speak, without a lovely lunch!!!  Not to mention the benefit of Barbara Scully as MC, she was fun to work with, insightful in her comments and always entertaining.
Don't miss out next year men!
[/av_textblock]
[av_textblock size=" font_color=" color=" av-medium-font-size=" av-small-font-size=" av-mini-font-size=" av_uid='av-k87n60f3′ custom_class=" admin_preview_bg="]
These photos of the day are available here: http://dlrchamber.ie/photos-from-international-womens-day-lunch/
[/av_textblock]